Written by: Lindy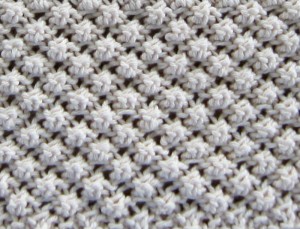 I used the Trinity Stitch pattern for dishcloth # 6. This stitch pattern produces a lovely textured fabric and is relatively easy to do. It is also known as the Cluster Stitch or Bramble Stitch. The fabric produced has a "knobby" texture and would make a lovely scarf or hat. It could also be used as part of the textured patterning in an Aran style or Fisherman style sweater or as a panel mixed with other textured patterns in an afghan or shawl.
The pattern is a multiple of 4 stitches done over 4 rows:
Row 1: (Right side) – Purl
Row 2: *(K1, P1, K1) all in same stitch, P3tog. Repeat from * across.
Row 3: Purl
Row 4: *P3tog, (K1, P1, K1) all in the same stitch. Repeat from * across.
Repeat these 4 rows for the desired length of your fabric.
Reference: Barbara G. Walker, A Treasury of Knitting Patterns
One Response to "Stitch Pattern: The Trinity Stitch"