Written by: Lindy
My first grandson is due January 30. I have already knit a couple of items for this coming grandchild – but I want to knit a romper and matching cardigan for him as well. I've posted about the swatches for the cardigan, but not about the romper.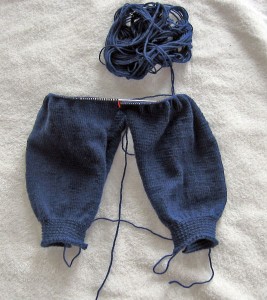 I am about 50% done with the romper. I am using Baby Ull (Dale of Norway) in a navy blue colorway. The legs were knit using size US 0 (2.00 mm) needles and then once joined together for the hip section, knit using US 1 (2.50 mm) needles. Tiny needles, lots of stitches. The pattern is #203 from Dale of Norway.
I doubt I will get this done before the baby arrives – but since I am knitting the 12 months size, it shouldn't matter if I finish it after he comes home from the hospital.