Written by: Lindy
February 6, 2011
January in Nebraska is usually cold, snowy and gray. This year was no exception. We have had several 5 inch snowfalls, sometimes with freezing drizzle accompanying, temperatures well below freezing and our usual gusty winds — which makes for wind chills in the sub-zero category. So, it seemed like a good time to knit up some nice warm hats. I have knit two and am about half-way done with a third. February is continuing with the snow and cold temperatures — so I will have no trouble finishing this third hat.
First up is the "Three Color Hat ala EZ":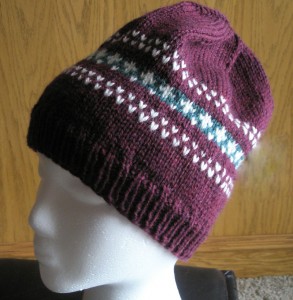 This hat was knit using Patons Classic Wool yarn, which is a worsted weight yarn. This yarn is nice and soft and knits up well. The main color is Plum Heather (Colorway 77307). Color 2 was Aran (Colorway 00202) and Color 3 was Jade Heather (Colorway 77208). I used size US 6 and US 8 circular needles and my gauge was 5 spi using the larger needles.

I knit this hat according to the instructions given in Elizabeth Zimmermann's Knitting Workshop. Her instructions are for a yarn with a gauge of 4 spi, so I adjusted the number of stitches from 72 to 90 to start. The first color pattern is one suggested in the book, the second is one I made up as I went. I knit the hat to a length of 6 inches before I started decreasing. It is probably too long, but I'm happy with the end result: A one of a kind, warm wool hat that fits nicely over my ears and keeps me warm!
Next Post: Trinity Stitch Slouchy Hat.
Reference: Elizabeth Zimmermann's Knitting Workshop