Written by: Lindy
January 12, 2010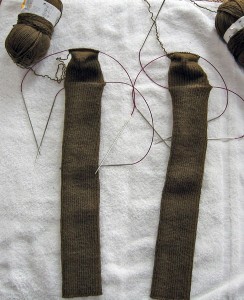 I knitted the heel and had about half of the gussets done on these socks when I decided that I did NOT like the way the picked up stitches for the gussets looked. They weren't tight enough and appeared to have small holes along the picked up edge. Frustrating, VERY frustrating – especially since these socks must be knit to very high standards. I don't know if the problem is the way I picked up the stitches – or if I pulled the yarn too tight. I have found that the Regia Stretch yarn used for these socks can be overstretched – it is a very stretchy yarn.
I put the socks in "time out" over the Christmas holidays – just too stressful to deal with them given all the other demands of the season. Last week, I pulled them out, put in lifelines at the instep and the end of the heel turn and then frogged them back to the point where I need to pick up the gusset stitches. 🙁
I plan to tackle the picking up of the gusset stitches this week, paying special attention to how the stitches form as they are picked up…and trying to avoid overstretching the yarn…I will let you know how it goes.