Featured Crochet Pattern — Mabel Lang's Motif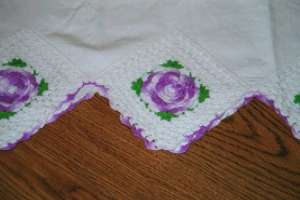 Mabel Lang was a friend of my mother. As a child, I was always fascinated by her rapidly moving fingers and the beautiful crocheted lace that seemed to appear magically from her hook. Her favorite motif was a square lace motif with a rose in the center. Using this motif with fabric, Mabel created beautiful dresser scarves, pillow cases and tablecloths. I am fortunate to still have several of her handmade items. Over the years, I have searched various hobby stores, fabric stores and bookstores for crochet patterns and I have not found a match to Mabel's motif.
I am concerned that this beautiful motif design will disappear without a record or a trace. Since this design is so beautiful and versatile, it would be a great tragedy if this happened. For this reason, I have carefully re-created Mabel's motif and written the instructions for crocheting it. It is my hope that other crocheters will enjoy this pattern and pass it on, so that is never lost!
Free Patterns
Terms of Use: You may electronically copy and print to hard copy portions of these patterns for the sole purpose of using materials it contains for informational and non-commercial, personal use only. Any other use of these patterns — including any commercial use, reproduction for purposes other than described above, modification, distribution, republication, display, or performance — without the prior written permission of Lindy's Knits & Laces is strictly prohibited.