Written by: LindyBeir
October 1, 2017
To all the women that read this post: When was the last time you had a mammogram? Are you overdue? I was one of those women that put off getting my mammograms done — and when I was diagnosed, I had just had my two years overdue mammogram done. Please ladies, if you are over due for your mammogram, schedule it and get it done as soon as possible.
---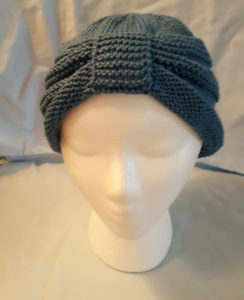 October is Breast Cancer Awareness month. I am celebrating my seventh year as a breast cancer survivor. I feel blessed and very lucky that I am cancer-free.
In honor of my being cancer-free for seven years, I am making a pattern for a turban style chemo hat that I created available on my website. I created this pattern because I have knit a number of different patterns for chemo hats, but I wanted something that was a little more stylish for an older woman.
I knit this hat using one of my favorite cotton yarns: Knit Picks Comfy Sport Weight Yarn. Chemo hats knit in cotton are washable and are very soft — they feel good on the head that is sensitive due to chemo and provide a degree of warmth as well.
The pattern is here: Turban Style Chemo Hat.
Please feel free to knit this hat for any loved one going through this experience with my blessings.