Written by: LindyBeir
I recently visited two new yarn shops that opened in my area.  They are both lovely shops and filled with some lovely yarns – some of which aren't carried by the local yarn shop that has been the only shop in the city for a number of years. Each shop offers a different variety of yarns than the other, so I am hoping that both of them can be successful.  We certainly have a growing number of knitters in our community, so having new yarn shops is quite appealing.
ImagiKnit Yarn Shop is located in the Bel-Air Plaza at 120th and West Center Road, Suite 602, Omaha, NE. This shop does not have a website, but does have a Facebook page: https://www.facebook.com/pages/ImagiKnit-Yarn-Shop/263171999129. The owner of this shop moved her business to Omaha from Hastings, NE.
Wooly Mammoth Yarn Shop is located in Rockbrook Shopping Center at 108th and West Center Rd, Omaha, NE. This shop also does not have a website, but does have a Facebook page: https://www.facebook.com/pages/Wooly-Mammoth-Yarn-Shop/150211221662670. The owners of this shop recently moved from Kearney, NE.
I'm sure the knitters in Hastings and Kearney miss having the shops in their towns, because they are both wonderful yarn shops and we are very lucky to have them here in Omaha.
Appealing, as well, are the yarns I purchased from both shops. (I couldn't resist).
From Imagiknit, I purchased a skein of Smooshy fingering weight yarn from Dream in Color. The colorway is 2014 September and it just spoke to me of autumn.  It has this delightful mix of fall colors: reds, purples, golds, greens in various shades. See the swatch below
.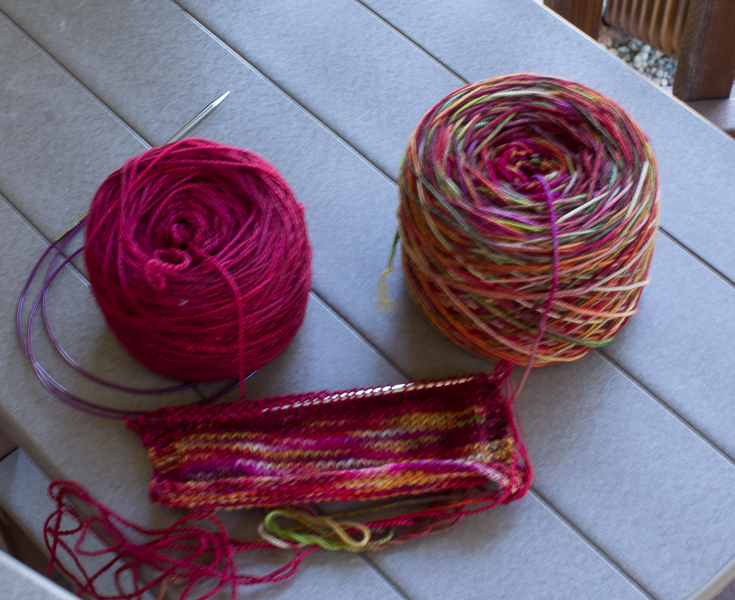 I also bought a skein of Fabjous Fibers Cheshire Cat in the colorway Off with Her Red – which blends perfectly with the Smooshy colors. I am using these yarns to knit a shawl using the Merlot pattern, which I purchased at Ravelry. This will be the topic of another post.
From Wooly Mammouth, I purchased 4 skeins of Addiction yarn by Claudia Hand Painted Yarns – also fingering weight yarn. I bought 2 skeins in the colorway Teal and 2 skeins in the colorway Prussian Soldiers. I plan to knit another two color shawl using these yarns, but I haven't decided on a pattern yet. I like the Merlot pattern, so I may choose to do that again – but there are so, so many lovely shawl patterns in my queue…
If you are in Omaha: check out our new local yarn shops.  🙂