Written by: LindyBeir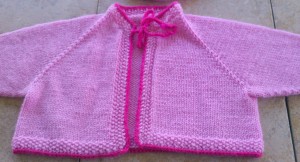 I have been working on top down raglans for my grandchildren this summer. My first project was a cardigan for my new baby granddaughter. I decided to make this sweater in size 18 mos. because that should be the size that will fit her this fall. Top down raglans are fairly easy to knit — once you get past the neckline, but the neckline is a bit tricky. I followed The Magic Custom Fit Raglan pattern by Danielle White as a guide. I say guide, because the pattern gives sizing directions for babies up to 12 months and then for children age 2 and up — but not for 18 months. So I had to do some guessing to figure out the actual measurements to use for the size I wanted.
I used Cascade 220 Superwash Yarn in Pink for the body of the sweater. I knit the sweater front bands, neck band, cuffs and the bottom band in seed stitch with the remainder of the body knit in stockinette stitch. I used Cascade 220 Superwash in Magenta for the edging, which was done in single crochet all the way around the edge to finish and then made ties by doing a crocheted chain for each side of the neck.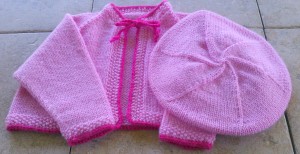 I then decided that I had enough yarn to knit a little tam to go with the sweater. I used the Magenta yarn to start the brim in 1 X 1 ribbing and then switched to the Pink. Baby hats are really quick knits, and this one was no exception. I washed the set up in the washer and then laid them flat to dry.
My notes and other details can be found in my project on Ravlery here: Baby Cardigan and Hat Project