Written by: LindyBeir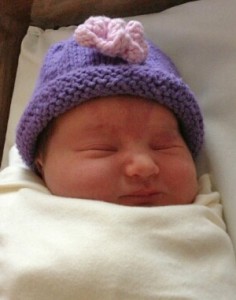 from this blog, a truly wonderful event occurred in my life — My DS and DIL had their second child!
A wonderful little baby girl that they named Charlotte Grace.
I, naturally, have fallen head over heels in love with this sweet babe. 😉
The little purple hat with the pink flower is one of several I knit her while awaiting her arrival.
She's already making a fashion statement — don't you think?
Pattern is a basic beanie with a rolled brim. I used "I Love That Cotton" from Hobby Lobby.
More on knits for Charlotte in my next post.