Written by: LindyBeir
October 27, 2012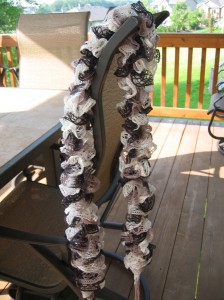 I knit this scarf as a birthday present for my MIL. She wears scarves all the time and I thought she would enjoy this unique scarf. I knit this using a novelty yarn called "Sashay" by Red Heart Yarns. It's a very interesting yarn to knit with. And Yes, it ruffles as you knit it up.
The pattern is really simple. You cast on 6 stitches and then just knit every row until you have used up the entire skein. It only takes one skein to make the scarf and when finished it is about 6 feet long.
My MIL was thrilled. She put the scarf on and wore it after she opened the bag. She exclaimed at how soft it was. She said she would be the envy of all the ladies in the independent living facility where she lives. (I made a BIG hit!) 🙂
Here's the details:
Yarn: Sashay (Red Heart Boutique) Colorway: Hip Hop
Needles: U.S. 9 (5.5 mm)
Finished length = 72 inches Width = 3 inches
Notes about knitting with this yarn: See picture below of the yarn before knitted. This yarn is essentially a stripe of lace — with the bottom edge more finished than the top. The bottom is the finished edge of the ruffles. You knit this yarn using the top two strands of the upper edge of the lace. The yarn is quite slippery and it takes some getting used to — I used metal needles for this project and the combination of the slippery yarn and the slickness of the metal needles nearly drove me crazy! I recommend using a type of needle with some grab for this yarn — if I knit it again I will use bamboo needles. Also — it is not possible to weave in the ends on this yarn. When you are done, get out your sewing thread and a sewing needle — you will need to sew down the unfinished edges of the scarf to prevent the ends from raveling.