Written by: LindyBeir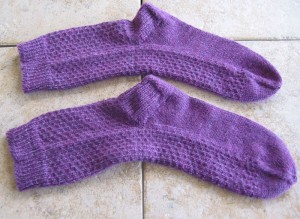 I am happy to report that I have finished this pair of socks. This pair of socks has been very patient with me. You see, this is the pair of socks that has spent much time sitting in my car and waiting for me to knit on them at odd moments. I have occasionally taken them into my office and worked on them over the lunch hour. I have also taken them to my knitting guild meet-ups whenever I have forgotten to take any knitting with me in the morning. It was just one of those projects that I would pick up at different times, with no particular need to finish at a particular time or date.
The pattern, Hermione's Every Day Socks is a free download on Ravelry. It's a very popular pattern both on Ravelry and within my knitting guild. There are several things I like about this sock pattern: 1) It's a very basic sock pattern with a nice heel; 2) the pattern is a simple 4 stitch, 4 row pattern that you can easily memorize — makes for an easy knit; 3) the toe-shaping is not too angular or pointy. Details: Yarn: Knit Picks Stroll, colorway: Duchess Heather. Needles: U.S. 2 (2.25 mm) Gauge: 6 spi.
One Response to "FO: Hermione's Every Day Socks"