Written by: LindyBeir
The clapotis scarf is knitting up nicely. I am now about 3/4 done with the straight row section. So far I have dropped 9 stitches and now have 9 ladders of varying length running diagonally to the edges.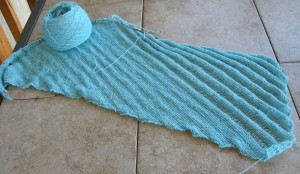 The straight row section is supposed to be complete after 12 repeats of the 12 row pattern. However, the instructions also say that if you want to make your scarf longer, you simply knit more repeats of the straight row section. So, I when I finish three more repeats, I will need to decide if the scarf will be long enough, or if I need to add some more length. The 12 row pattern for the straight rows is really fairly easy to knit and it doesn't take too long to complete one repeat. I am thinking that I'd like this scarf to be a little longer than the 55 inches stated in the pattern, but will see.
The scarf is really soft and has a nice drape. So far, I'm happy with how it's knitting up.