Written by: LindyBeir
After doing two pairs of the "Fancy Feet" Anklets, I came to the following conclusions:
1) I really, really do not like to knit socks of any type toe-up. (I know that may shock those of you that swear toe-up is the only way to go — but there it is. I just don't like to knit 'em that way.
2) I don't like the repeating short rows that make the heel on this pattern. I don't care for it's depth or it's shape.
3) I prefer using the German Short Row method over the "Wrap and Turn" method.
As knitters, we do have the right to our preferences. These are some of mine.
That said, I got out my needles and some leftover sock yarn and started working on a basic anklet pattern, cuff down. I have now finished my first pair and my notes are a bit sketchy — so I will need to knit a couple more pairs before I put out my basic pattern. But here a couple of pictures of the completed anklets: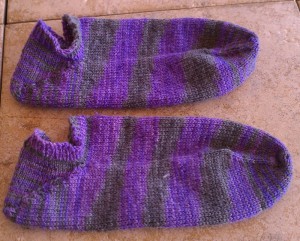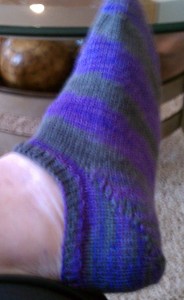 Details:
Yarn: Leftover Serendipity yarn in colorway Amethyst
Needles: US 2 (2.50 mm) circulars, 48″
Magic Loop method. Pattern has a basic rib cuff and a short-row heel. Knit in stockinette stitch.
You will note the pooling on this yarn. I wrote about how this variegated yarn pools depending on the size of needles and the number of stitches back in 2010. If you're interested here's the link: A Study of Pooling in a Variegated Sock Yarn