Written by: LindyBeir
My GS is almost two and "Choo Choo's" are one of his most favorite things at the moment. Now he got a train table and lots of trains and things to go with it for Christmas, but this Grandma just had to knit him a hat with a choo choo train on it. My first attempt was a little too tight, so I knit another a lit bit wider and it fit perfectly.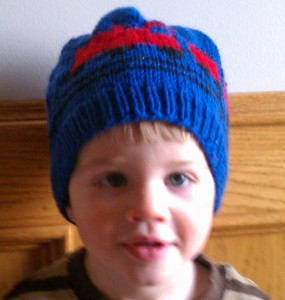 Since two year olds are always in motion when awake, it was a challenge to get him to stand still long enough to take his picture — But I was able to get one (and only one) good picture of him wearing his new hat.
Details: Knit with Paton's Classic Wool in Blue, Red and Black on size US 7 needles. Pattern for the train is from "Patterns for Knitted Hats by Betty Lampen.