Written by: LindyBeir
I am making significant progress on my Color Block Vest. In fact, I am nearly done! So Saturday, I realized that I really needed to go buy buttons for this vest. And off I went.
Now, I must admit that it has been some time since I ventured into a fabric store to buy buttons. And usually when I am buying buttons, I am also buying thread and fabric to match. What I discovered is that in the time that I have been absent from the fabric store scene that things have really changed. Changed in a good way, actually. Oh my! the selection was enormous! And really wonderful. In addition to the standard buttons in rather standard colors that come in sets of four or five — there are all these unique and stylish buttons available. Who knew? Obviously, not someone like me who hasn't ventured into the button section of the fabric store in a good long while.
I was enormously challenged — I had so many choices! Wonderful choices! And then…I found them! The perfect buttons for my vest!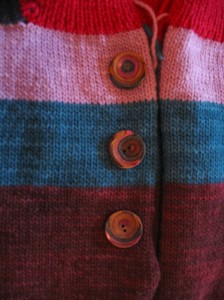 Aren't these just wonderful? They have a lovely brown background with swirls of pink, green and darker reddish brown. They match the three colors where they will be placed nicely.
As wonderfully matched as these buttons are — I must also admit to sticker shock when I went to check out. They were on sale, fortunately, but even at that they were expensive. I paid $7.00 apiece for them. (ON SALE!) Who knew buttons could cost so much? Now, I was willing to spend the money to get these perfect buttons — especially since I have invested money in a high quality yarn for this project. Still I think that buttons should not be so expensive. Even if they are perfect…