Written by: LindyBeir

It's been a busy summer and I haven't done much posting of late. Now that summer is winding down along with the Labor Day weekend, I intend to post a bit more often. So I will start with my latest FO. Awhile back, I purchased the "Fancy Feet Anklets" kit from Knit Picks. This kit contained 7 balls of Comfy Fingering weight yarn in 7 different colors and a set of 7 patterns, one for each day of the week. The idea being that you have a pair of anklets for each day of the week. Now, I have to confess that this kit has been hanging around it my stash long enough that it is no longer available on the Knit Picks website. (I just checked.)
I started knitting one of the patterns in the kit (Monday) earlier this summer when I was looking for a small, portable knitting project to take with me here and there as we traveled throughout the summer. This was a perfect portable project. The Monday pattern is a feather and fan type lace pattern. I used the colorway Blackberry and size US 0 (2.00 mm) circular needles, 47 inches long so that I could do magic loop and two-at-a-time. Now, because this is a lace pattern, it does require keeping track as you knit. The anklet is knit toe-up — which is not my preferred method for doing socks — but I think it is the most practical way to knit this type of short ankle sock.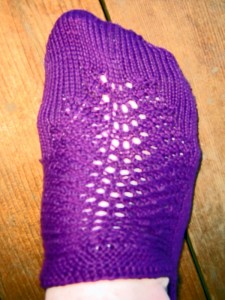 A couple of comments/notes to myself for the next pair: The socks seem a bit too tight across the middle of my foot, so I think I will knit the next pair on slightly larger needles. The socks are also a wee bit short for my size 8.5 foot, so the next time I will knit them about 1/2 longer before starting the heel. The heel on these anklets is made by doing 60 short rows (yep, 60). You really have to keep track of where you are in the pattern when knitting the heel. I found it best to do the heel in one long stretch of knitting rather than attempting to stop somewhere in the process. I also have decided I really don't like the wrap and turn technique used for the short rows, so the next pair will be knit using a different technique.
I like the socks, but since they don't really fit me, my sister (who has smaller feet) will be getting this pair.