Written by: LindyBeir
In my previous blog post, "Vintage Crochet: A Motif from My Mother", I described how I had found this motif tucked inside a ball of crochet thread from my Mom's stash and how I had re-created it.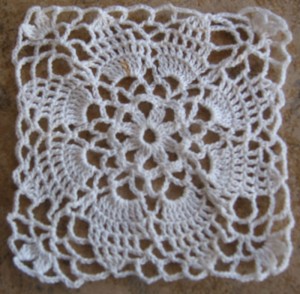 I have finished writing up the pattern and it is available here: Mom's Motif. I have checked this pattern for accuracy several times. However, if you download it and use it, please let me know if you have any questions or find anything amiss.
There's a little more to the story of this motif. After studying on it for a time, I decided to check and see if this was the motif my Mom used to crochet me a tablecloth. And sure enough, it was. Here's a picture of the tablecloth: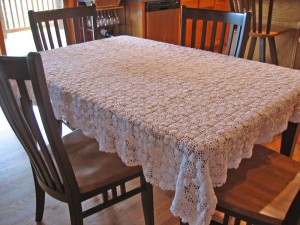 It's lovely, isn't it? Here's a close-up of the tablecloth: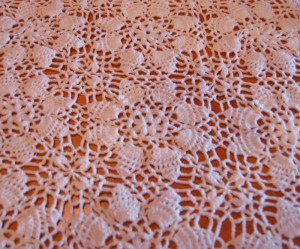 I am planning on taking the added step of recreating the patterning used to join the motifs into a single piece. This may take awhile. But I promise I will post it when I'm done.
2 Responses to "Pattern: Re-created Vintage Crochet Motif — "Mom's Motif""