Written by: Lindy
As promised in my last post, my Trinity Stitch Slouchy Hat was knitted in January. This is a semi-slouchy hat knitted in the trinity stitch. The inspiration for this hat came from a thread in the Harry Potter Lovers group on Ravelry. The thread was about the knit hat that Hermione Granger wears in the Deathly Hollows, Part I movie. Here's a picture from the movie: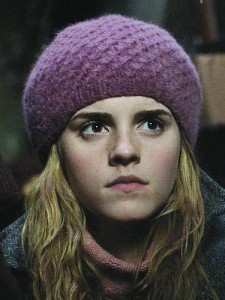 There was a great deal of discussion about what stitch was used for the hat, but most of the comments were in favor of either the daisy (star) stitch or the trinity (bramble) stitch. So, I decided to give the trinity stitch a try — and here is the end result: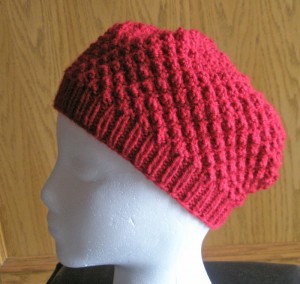 Pretty close, I think.
I knit the hat using Paton's Classic Wool yarn on size US 8 (4.5 mm) needles. Colorway is "Bright Red". I also wrote the pattern for this hat as I knitted it up, so that I could share it with others. Here's a link if you'd like to download it: Trinity Stitch Slouchy Hat.
I had to convert the Trinity Stitch Pattern so that it could be used in the round. Directions for the trinity stitch knit in the round are included in the pattern. If you download this pattern and enjoy knitting your own hat, please leave me a comment. 🙂
To see my notes on Ravelry — use this link.
Next post — Beret in Bee Stitch.
4 Responses to "Slouchy Hat in Trinity Stitch"