Written by: Lindy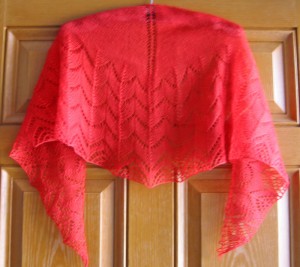 I started this shawl the end of October and finished it in December. For me, this is a fairly quick knit in a lace pattern. The pattern is free on Ravelry and is quite popular. The shawl is knit in a triangle, starting at the center neck and grows as you knit it. It has a fagotted edging along the neckline. You knit the shawl in stockinette stitch to a selected number of stitches and then begin the feather and fan lace pattern. You are given an option to increase the number of pattern repeats you do so that your shawl will be longer and then you follow the second lace pattern to make the edging.
I knit this using Forsell Superwash Wool, 3 ply yarn and size 4 needles. This yarn is closer to a lace weight yarn than a fingering weight yarn and is actually a machine knitting yarn. If I were to do this shawl again, I would definitely go with a heavier yarn as I think the lace pattern would be better in at least a fingering weight yarn. I also would use a stretchy bind-off, rather than the one given in the pattern as my bound off edge was not as stretchy as I would have liked it to be and did not scallop like I thought it should when I blocked it.
The pattern itself is a very nice one, easy to follow. The finished shawl measured 19.5 inches by 56 inches, so it is more of a scarf than a shawl.
See details on my Ravelry Projects page.
One Response to "FO: My Traveling Woman Shawl"