Written by: Lindy
November 15, 2010
I have finished the cardigan sweater I was knitting for my GS. Now, I started this project in October 2009, well ahead of this little boy's anticipated arrival. I had always intended to knit it as a size 12 months — I just hadn't intended for him to be 9 months old by the time I finished! Ah…best intentions, too much ambition …and too many other WIPs to distract me.
Actually, I knit the cardigan in about 3 months. I had started this project planning to knit both a romper and a cardigan to match. I had the romper about three-fourths complete when I decided that it wasn't what I wanted for my GS. So I set it aside for a bit and then realized I better get busy knitting or the sweater would be too small before it was ever finished.
Here's the little guy in the sweater: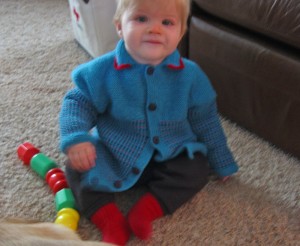 He's a real cutie, isn't he? Not that I'm a proud Grandma or anything like that…. 🙂
Brief run-down on the project details: Pattern was from a Dale of Norway pattern booklet, Nr. 203 "Baby Designs". Yarn was Dale of Norway Baby Ull — colorways 4221 (red), 5735 (navy), 6435 (teal). The body is done in a three color, slipped stitch pattern, which I identified from Barbara G. Walker's "A Treasury of Knitting Patterns" as the waffle weave. I will post about this pattern later.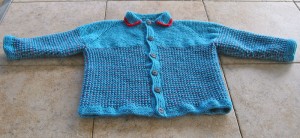 Here's a link to all the project details in my Ravelry projects: GS's Cardigan.