Written by: Lindy
November 28, 2010
The cardigan for my GS was done using three-colors in a very easy slip stitch pattern, which I discovered is the "Waffle Check" pattern in Barbara G. Walker"s A Treasury of Knitting Patterns.
It's the Waffle Check Variation, which only has 4 rows. It creates a lovely nubby color pattern and is based on garter stitch – so it does not curl on the edges.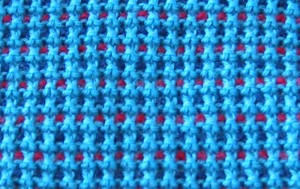 The pattern is done over an odd number of stitches – it is a 2 stitch, plus 1 pattern. Instructions are for knitting flat. This is the basic 4 row pattern:
With color A—
Row 1: Knit.
Row 2: Knit
With color B –
Row 3: K1, *sl 1 wyib, K1; rep from * .
Row 4: K1, * sl 1 wyif, K1; rep from *
To make the three-color pattern used in my GS's cardigan – you alternate knitting rows 3 & 4 in two different colors. And the color changes could go on to many different colors if you wished – a good way to use up some leftover yarn, perhaps?
Now, I am currently working on knitting a hat to go with GS's sweater using the Waffle Check pattern and the same colors. Because I am knitting this in the round, instead of flat, I have modified the above pattern as follows:
With color A—
Row 1: Knit.
Row 2: Purl
With color B –
Row 3: *K1, sl 1 wyib; rep from * .
Row 4: *P1, sl1 wyif; rep from *.
And because I don't want two knit stitches together at the join, this is done over an even number of stitches. I'll post the end result when I'm finished.