Written by: Lindy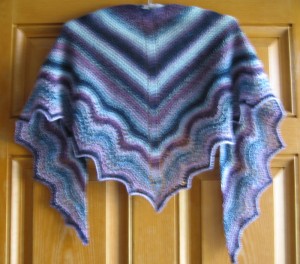 I took a little knitting detour last week and knit up the Multnomah Shawl in Zauberball Crazy yarn. Colorway is Fliederduft, which is loosely translated as "lilacs". I had allocated this yarn to a pair of socks as part of the "10 in 2010" projects at the beginning of this year. However, after looking through many examples of socks knit with Zauberball Crazy in the Ravelry projects, I decided that I really didn't want to knit this yarn into a pair socks. So — I switched to a shawl and ended up doing the Multnomah pattern by Kate Flagg.
The shawl was done in garter stitch until I had 265 stitches and then I started the feather and fan pattern and did 9 repeats. This pattern is a fairly quick knit. I was able to finish it up in a week and that was even with needing to frog back a couple of rows in order to have enough yarn to bind off.
Final size of the shawl — it's actually a shawlette — was 15.5 inches by 58 inches.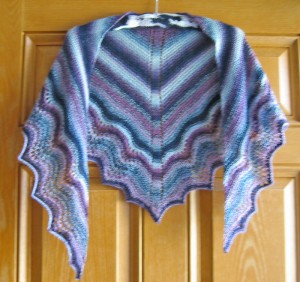 I am pleased with the result. It's an nice size for a decorative scarf/shawlette and I think the striping of the yarn is shown off to better affect than it would be in a pair of socks.
Zauberball Crazy is a self-striping, marled yarn. Which means that it stripes, but because the two plies of the yarn may be different colors, you get a somewhat "tweedy" appearance in many of the stripes. It's a unique yarn. It is a fingering weight, superwash wool and nylon yarn and the fabric is soft and drapes nicely after blocking. I did find that the yarn had a tendency to split occasionally and there were spots where a tuft of yarn from one of the plies would stick out — these were easily removed. I might be tempted to try another colorway — but not certain what project I would use it for.
The Multnomah Shawl pattern is a very popular pattern on Ravelry and there many knitters who have made larger shawls, so when I knit this pattern again I plan to knit a larger one. The pattern is free and available for download from Ravelry (must be Ravelry member) or on Kate Flagg's website.
I have finally figured out how to share information from my Ravelry project pages, so I am linking to this project details on my "Z Crazy" Multnomah Page.
One Response to "FO: Multnomah Shawlette in Crazy Zauberball"