Written by: Lindy
In the Knitter's Almanac, Elizabeth Zimmerman suggests doing a Pi Shawl during the month of July as a perfect knitting project to take along with you on your summer travels. Well, I started a Pi Shawl following her instructions in the Knitter's Almanac in July of 2008. Umm, yeah. July 2008. I took this project with me during that summer on various trips, including a trip to Spain in September. But then, for some reason I don't fully remember, I set it aside — and left it sitting until July 2010.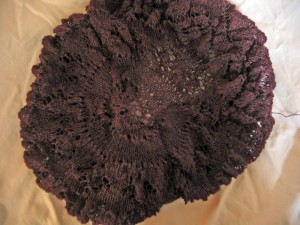 As you can see from the above photo, I had made quite a bit of progress on this shawl. In fact, I had made it all the way to the last set of increases, with 576 stitches on the needles. If you are not familiar with the concept of the Pi Shawl — it is simply this: you start out with a small number of stitches (9 in this case) and double the number of stitches every so many rows. The number of rows between increases grows by 3's or thereabouts and you end up with a circular shawl made up of a whole lot of stitches. (EZ writes that you can keep increasing as long as you wish — but she stops at 576 as it seems to be enough. I think I agree.)
So — after I figured out where I had left off, I started knitting away on those 576 stitches using the lace patterns given in the Knitter's Almanac. When I started this shawl, my plan was to knit it per EZ's instructions. Knitting the lace patterns required knitting 42 rounds and I decided to knit an additional 2 rounds after that. Here's what it looks like at this point: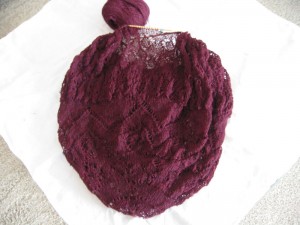 Here a two additional views. The first is looking down at the center of the shawl with the circular needle underneath and the other is looking down with the circular needles on top.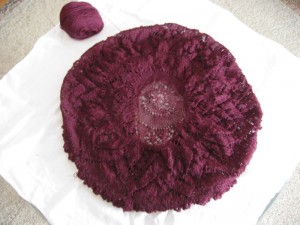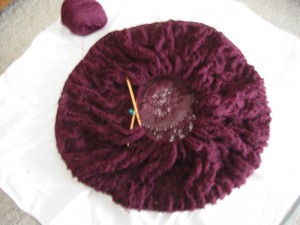 It looks like a big lacey bag at this point. And it is really difficult to tell exactly how large this shawl actually is. I'm estimating that it is somewhere around 60″ in diameter, but I really won't know until I get it off the needles and get it blocked.
Now, getting the shawl off the needles is going to take some time. This is because I am knitting on a lace border and using up the edge stitches as I go. I am using the lace border pattern on page 82 of the Knitter's Almanac. Now, this was a bit tricky to get started — because it doesn't really tell you how to incorporate knitting off stitches when you knit the lace pattern. EZ does describe the basic process earlier in the chapter — but the specific directions are not given with the lace border pattern itself.
It took me a little while to figure things out — and since I don't want to have an issue with dropping any of those 576 stitches, I started by putting in a lifeline. From this point forward, I am using the right needle of my circular needle and a dpn to knit the border, so I put a point protector on the left needle to prevent stitches from sliding off and cast on 11 stitches for the border: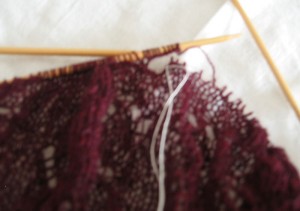 The lace border pattern consists of 4 rows, and you K2Tog each time you knit back toward the shawl's edge stitches, incorporating 1 edge stitch into the border. This means you use up 2 stitches every 4 rows of border. (Yeah…it's gonna take awhile.) Here's the start of the border after 20 rows: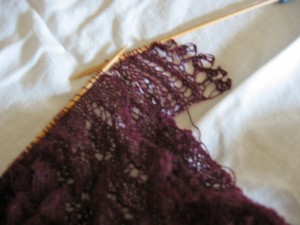 I like the border… Only 566 stitches to go. I hope to finish this before the end of July. I will post pictures of the finished shawl when I get it blocked.
Here's a link to Elizabeth Zimmermann's Knitter's Almanac
One Response to "WIP: Pi Shawl — Hibernating Since 2008…"