Written by: Lindy
During the summer months, I like to knit smaller projects that knit up quickly, are portable and don't require a whole lot of intricate knitting. So, 2010 is the Summer of Washcloths. I recently came across a booklet with 10 different knit dishcloth patterns: "Kitchen Bright Dishcloths" from Leisure Arts (2004).
Now, I had already downloaded a few patterns from Ravelry and knit up 1 of those, plus I decided to finally knit the "Ball Band Dishcloth" printed on the back of the Peaches and Cream yarn label. So — if I knit the 10 in the Leisure Arts booklet, by the end of the Summer, I will have …(count 'em)… a Dozen new knitted dishcloths.
I am a quarter of the way through my dozen. Here are the three completed projects:
Pattern found on Ravelry. Yarn Used: Peaches and Cream, Winterberry Ombre. I like this pattern, though I'm not sure I like the way the yarn pooled when I knit it.
#2 – Ball Band Dishcloth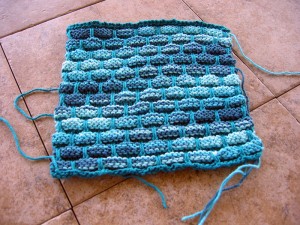 Pattern on back of Peaches and Cream yarn label. Yarn Used: Peaches and Cream, Teal Blue and Teal Ombre. I like the end result, but really did not like knitting this pattern. Not sure why — I just didn't enjoy knitting it.
#3 – Bee Stitch Dishcloth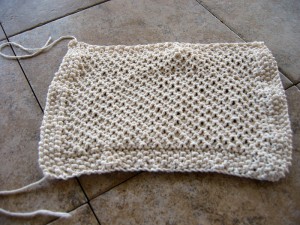 Pattern from Leisure Arts booklet. Yarn Used: Lion Brand Kitchen Cotton, Natural. I really enjoyed knitting this dishcloth. The Lion Brand yarn feels softer than the Peaches and Cream (probably due to lack of dye) and I loved knitting the Bee Stitch — it's an easy 4 row stitch pattern.