Written by: Lindy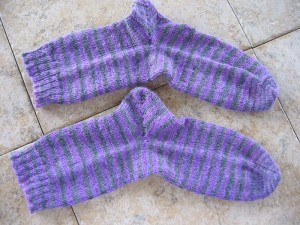 I have finished my Plain Vanilla Socks knitted in Serenity Sock Yarn (Premier yarns), colorway Amethyst. This is the yarn that I wrote about in a previous post: "A Study of Pooling in a Variegated Sock Yarn". As I discovered in my study of how this yarn pools, by using 54 stitches on size US 2 (2.75mm) needles, I got a "striping" effect as the yarn pooled. You can see the result in the picture above.
Serenity Sock Yarn is a variegated yarn with color changes that are fairly short and don't necessarily produce stripes when the number of stitches increases. The yarn itself has a nice soft feel to it and it knits up nicely, but I did experience a tendency of the yarn to split at times. The yarn is 50% Merino Wool, 25% Bamboo and 25% Nylon and has sufficient stretch for a well-fitting pair of socks. Anyone planning on using this yarn should definitely knit a swatch with the number of stitches they are planning to use for their socks to see if it knits up in a way that they like.
There was a pattern printed on the inner label that called for a gauge of 9 spi on US 2 (2.75mm) needles. The pattern is based upon 64 stitches. Now, I got an spi of 6.25 on US 2 needles, which is a significant difference and I cannot speak to how it would pool at the stated gauge of 9 spi. I know that I knit more loosely and guess that in order to obtain 9 spi, I would have to use US 0 (2.25 mm) or US 00 (1.75 mm). I really prefer to knit socks on a little bigger needles. These socks were for me to wear around the house and they fit my feet perfectly.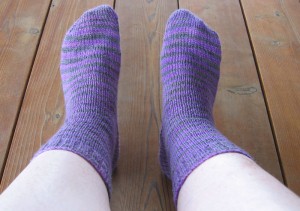 As for the pattern used for these socks — I really didn't use one. I knit a 3 X 1 ribbing for 1.5 inches, then switched to stockinette stitch and knit until the cuff measured 6.5 inches. I did a short row or mitered heel and then knit the foot and toe in stockinette and grafted the toe when I had 9 stitches remaining on each side of the sock. I used the Magic Loop method and knit the socks two at a time.
One Response to "FO: Plain Vanilla Socks in Serenity Sock Yarn"