Written by: Lindy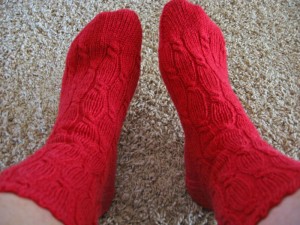 I finally finished the Cable Rib Socks! Yes, this is the unfortunate pair of socks that was eaten by the Roomba. (See post here.).
I set this project aside for some time to work on other project. Typically for this kind of project, I would pick it up every now and again, but not spend much time on it — thus, progress was very slow. In addition, every since the Roomba incident, this pair of socks seemed to be prone to problems (errors?) — in fact, I think I frogged each sock back several rows at least twice. So, it is nice that they are finally done — and I am happy with the result.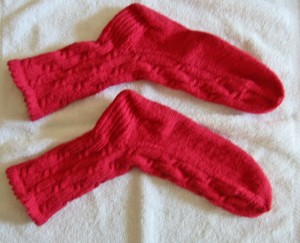 The socks fit well, and they look nice on my feet. They were knit in Knit Picks Risata, Baby Doll colorway — it's a nice cotton sock yarn and I love the bright rosy pink color. Pattern was Cable Ribbon Socks by Classic Elite Yarns.
One Response to "FO: Cable Rib Socks"