Written by: Lindy
I think every child should have a teddy bear to love, so I am knitting my baby grandson a teddy bear. The pattern is from "Knitted Toys" by Debbie Bliss. When completed, this will be about 16-19 inches — which is a good size for a teddy bear.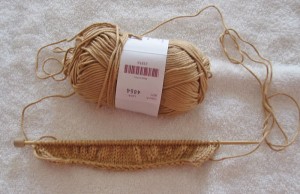 I initially started this project using Peaches & Cream cotton worsted yarn in teal blue. I knitted up the first leg and started on the second one — and then decided I didn't like the way the yarn was knitting up and I also didn't like the color for the teddy bear. So, I switched yarns and colors and started over.
The yarn I choose is Knit Picks Shine Sport yarn in Willow colorway. This first photo is of the yarn and the beginning of the right leg.
I have knitted both legs at this point and plan to work on the body tonight while watching the Olympics. I have been using right and left slanted increases and decreases to help make the shaping more defined. [One of the things that I have learned while doing the Master Knitter Level I swatches with different increases.]