Written by: Lindy
My new baby grandson has a small head. This is a family trait, as both his father and paternal grandfather have small heads and this is always an issue when they are picking out new ball caps….
So, I have been making the little guy some smaller hats. I started out by checking on what the "newborn" head measurement is — which my references state is "14 – 15 inches". I cast on the appropriate number of stitches for the gauge of the worsted weight baby yarn I was using — three rows in and I thought: "Too Big."
After some experimenting, I got what looked like the right circumference and knit up a beanie type hat — one inch of 2 X 2 ribbing and then straight stockinette until the hat measured 3 1/2 inches. I used the standard K2tog decreasing to form the top of the hat. I guessed correctly, because the hat fit perfectly. The circumference of this first hat was 11.5 inches.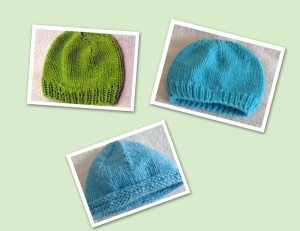 The new parents were impressed and asked me if I could knit up a few more in different colors so that they could use them to coordinate the baby's outfits. Now, being a new grandma, I said, "Of course!" —
So — I knit 3 more hats — each one only took about 90 minutes to knit up and I varied them a little just so I wouldn't get too bored with them. The bright green one and the baby blue one were knit using Berat Cottontots yarn and the aqua one was knit using double-stranded Baby Ull (Dale of Norway) washable wool.
BTW — I didn't get a picture of the first hat — also knit with Bernat Cottentots yarn — but it was baby blue with a bright green stripe.