Written by: Lindy
My DS put "socks that won't wear out at the heels" on his Christmas list. It was a late request – and not one that would I would likely be able to meet by Christmas – but it was an invitation to knit socks for someone I love!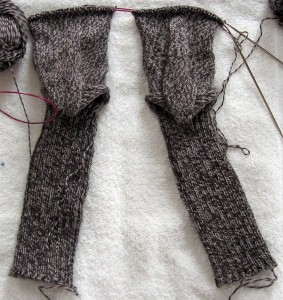 So – I started a pair of socks – plain label version, cuff-down with 2 X 2 ribbing for the heel and instep. I used Knit Picks Stoll in Carbon Twist colorway. I got about 6 inches of the cuff done before Christmas and so I wrapped the "in progress" socks up along with two additional balls of yarn (Knit Picks Stoll – Merlot colorway) for another pair of socks and gave it to him as a Christmas present, with the promise that they would actually become socks.
The Carbon Twist socks are now about 75% complete – I am working on the foot and heading for the toe. I love the way this yarn knits up – it's great for a pair of men's socks. I knit the cuff for 6 inches on size US 1 needles (2.50 mm) and then went down to size US 0 (2.00 mm) for another 2 inches on the cuff , the heel flap and approximately half of the gusset before switching back to the larger needle. This produces a denser knit heel and should increase the wearbility of the socks. I intend to knit the toes on the smaller needles for the same reason.
For the Merlot colorway yarn, I am planning on doing the "Manly Aran" socks pattern from Antje Gillingham's Knitting More Circles around Socks. This is a toe-up pattern and I am looking forward to trying this out using Magic Loop.