Welcome!

October is Breast Cancer Awareness Month. I am a breast cancer survivor, so this month has a special significance for me. To all my women readers/visitors -- Please schedule your annual mammogram if you have not had one in the last 12 months.
---
In honor of all those dealing with breast cancer treatment, I have created two patterns for chemo hats. The hats are "turban-style" because I know that women undergoing chemotherapy and losing their hair want to have head coverings that make them feel better. The turban style is both comfortable and sophisticated.

It is my hope that you use the patterns below to support your friends undergoing treatment and provide them with a comfortable knitted item that will keep the head warm while making them feel more attractive. Just click on the link for the pattern you want to use to download a pdf copy.


---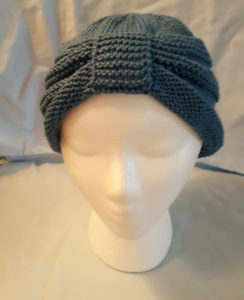 Turban Style Chemo Hat Patterns:
Knitted Turban Chemo Hat in Worsted
Knitted Turban Chemo Hat in Sport
Other free patterns are available on the
Patterns
Page.
Please visit my
Blog
to see information I have posted there about my favorite crafts.